What is change? Why is change taken and seen as the only permanent and constant thing in life? From conception to death, everything in our lives is ever-moving, ever-changing. Slow and quick, change is the metamorphosis of life. It is no respecter of humans, taking no exception of anyone – including me.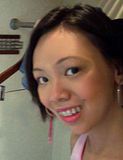 Six years ago, at age twenty-one, I was living a normal and happy life. I was at the prime of my life, hanging out and having fun with my friends. I loved partying and found enjoyment in making people howl in laughter with my funny antics. Needless to say, I was a carefree and jovial person who enjoyed almost everything around me. My life was at its peak until the inequitably unexpected change came – a change that ultimately pressed me out of my comfortable zones.
On one fateful day in August 2004, I was diagnosed with a very rare genetic disorder called Neurofibromatosis Type 2. This type of disease causes growth of tumors in the nerves. I developed multiple tumors in my brain and in several parts of my body. The three tumors inside my brain needed priority for surgical operation since the continuous growth in size of these tumors will eventually put pressure on my nerves, inflict nerve damages, cause multiple complications, and put my health in terrible risks and my life in danger. I still appeared and felt alright back then, in spite of the frequent headaches and double visions. I continued to live my life just the way that it had been before I was diagnosed with NF2. It seemed that the unexpected change that came into my life that fateful day was not too cruel after all, or so I mistakenly gathered.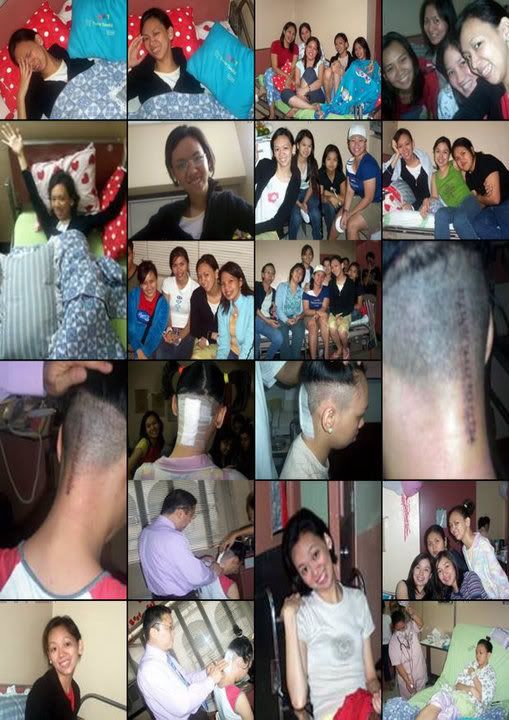 In January 2005, I underwent an open brain surgery; however, the operation was terminated due to an unsafe Dura opening that blocked the passages to my brain. As a result, the surgeons were left with no other options but to immediately close up and stitch up the incision on my head. Prior to the open brain surgery, the lower back part of my head was shaved. I had an undercut hairstyle; thus it became the origin of my present blog URL – UNDERKCAT.
The scar healed. The tumors were still inside my brain; but life went on as it should be, a normal life filled with regular routines and activities. Five months after the failed brain surgery, I underwent Stereotactic Radio Surgery (SRS) to treat the three benign tumors still logged inside my brain. The procedure was extremely painful. My head was literally screwed to a metal brace. Dizziness overcame me. I kept vomiting incessantly after the procedure. It was the start of a change that I might not have expected; yet perhaps, I knew deep down inside that things were going for the bad, that the woes of change had come and their stings and bites will stay with me for a long long time.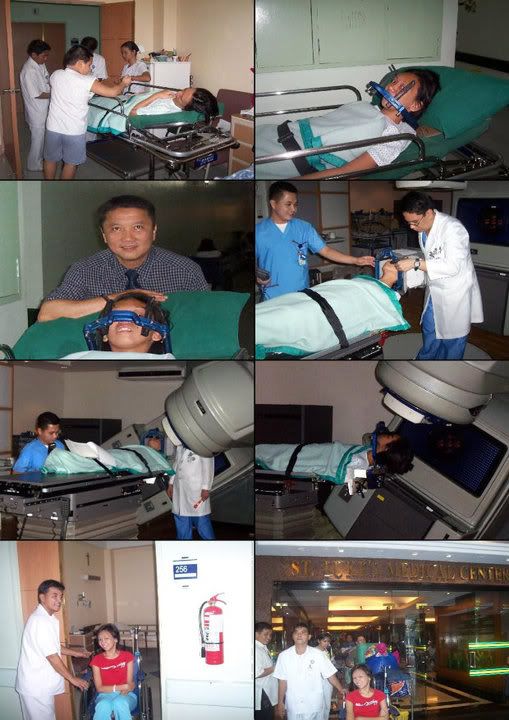 The "Swelling Stage" came a week after the SRS procedure – a sign that the tumors were successfully targeted. Severe headaches and vertigo became my constant companions. I started to lose my sense of balance. In fact, it worsened. There were instances when I passed out into unconsciousness because of the excruciating pains, only to regain consciousness the following day, and finding myself lying in the hospital bed. The hospital became my second home. I was in and out of it. Each time that I was finally discharged to go home, my doctor advised me to continue on a soft diet. Instantly, only one food came to my mind – the Soft Mamon from Goldilocks – soft and yummy with lots of cheese topping as I have always loved. At the least, it was one of the few things left in my life then that did not change.
The excruciating pains in my head grew unbearable. Pain took a change too – for the worst. I was dying in pain. On October 25, 2005, I underwent a VP Shunting to drain the fluids inside my head caused by hydrocephalus. To make things turn for the ever worst, my immune system at its lowest point, I was infected with a virus during my stay at the hospital. I succumbed to pneumonia. My health quickly and severely deteriorated. My left extremities were paralyzed. I was losing my sense of hearing due to the brain tumors that adversely affected my auditory nerves. Swallowing became a burden. I even choked on my own saliva; thus, a Nosagastric Tube (NGT) was inserted inside my nose down to my stomach in order to facilitate food and fluid intake. I stayed in the hospital for two months due to an unknown cause of my febrile episodes. At that point in my life, change became uncomfortable at the least, and unbearably painful at the most. It called upon my own strength beyond any difficulty that I had undergone. Time was so slow.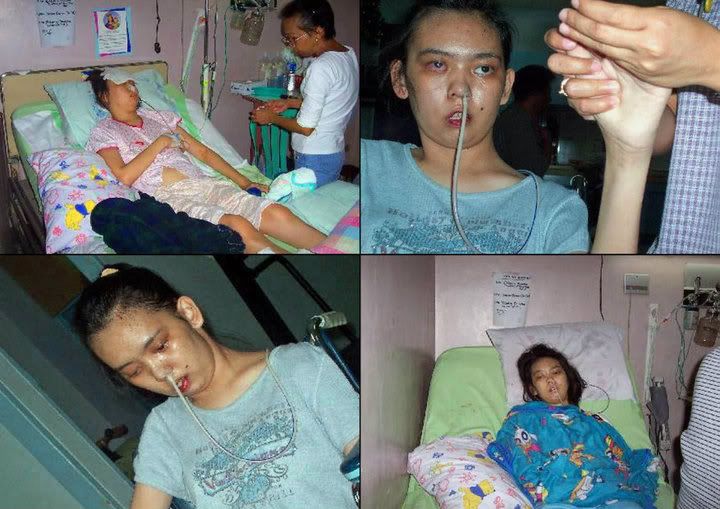 Three days before Christmas of 2005, I was discharged from the hospital. I was so weak and feeble. I became a 'human vegetable', not capable of doing things normally anymore. I continued to be fed through NGT, but later, a tube had to be inserted directly into my stomach in the hope that I could practice swallowing gradually. Still on a soft diet, my doctor advised me to ingest mashed foods and gelatin. I could not believe what I heard back then. Gelatin! The very first thing that came into my mind was the Cathedral from Goldilocks! It has been my favorite since I was a kid! The heavens are still kind to me, after all!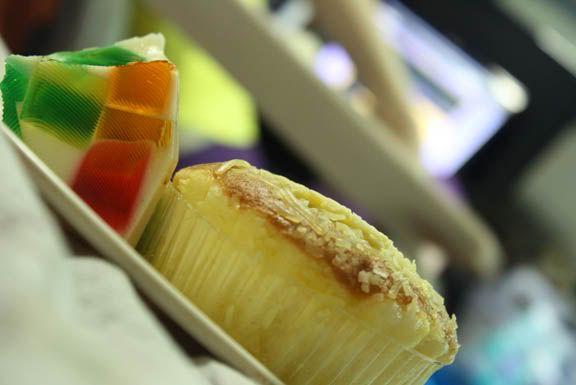 (Goldilock's gelatin & special mamon as my usual snacks)
I welcomed the year 2006 in absolute silence. I became totally deaf.
I was deaf. Okay.
I was weak. Okay.
I was disabled. Okay.
I was in denial. Okay. How could anyone in the same situation as mine deal with change that grew for the worst?
Holy Week came. I had anxiety attacks for the whole week. Everything that I had undergone suddenly dawned on me. People say that change has an adjustment period that is variable, depending on the individual. Change inflicted casualties, and I was one of them. It felt as if the whole world began to move so quickly, and I wanted it to pause, to lie in wait for me. Restlessness pervaded my whole being. Sleep would not come. The echoes of my mind reverberated: "NABABALIW AKO!" For unknown reasons, I started to count each second, each minute, each hour and each day until Easter Sunday comes. I guess I was waiting for change to finally stop, and fly me into another world, far far away, devoid of pains and tubes.
Then out of the blue, another unexpected change happened! Surprisingly, I woke up on Easter Sunday feeling a lot better! Over breakfast, I told my Mom: "Ma, gagaling na tayo! Lahat ng kaya kong gawin, gagawin ko. Life must go on!" My Mom asked me: "Did you say that because I told you so?" I answered: "No, I said that because that is what I want to do. I want to continue living, no matter what it takes. I will accept everything."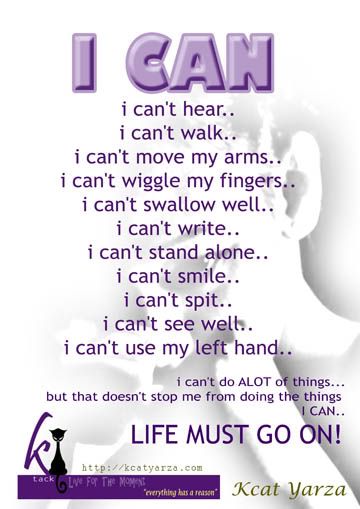 With that kind of determination at hand, I made a poster and hanged it on the wall, to remind me of who I was, who I had become, and who I want to be. Good changes are coming fast.
There are many things that I cannot do anymore; but for every phrase that says "I can't", I can come up with things that I CAN DO.
I cannot hear, but I can still join in conversations, read lips, utter and mumble words. With a cochlear implant hearing device in my ears still allows me to hear subtle sounds.
I cannot wiggle my fingers; but I still can type, chat on the internet, and send text messages.
I cannot walk; but I still have my two feet and a wheelchair that takes me around.
I cannot swallow; but I can eat a lot – a whole lot of food.
I cannot smile; but I AM DEFINITELY HAPPY!
LIFE GOES ON. It is the best quote of my life. I will continue to live my life the way that it should be and the way that I want it to be. I am going to regain my life, adjusting to changes, be they good or bad. I will continue to live as KCAT with NF2. I will continue to go on therapy, medical check-ups, regular MRIs. I will continue to unleash my creative spirit. I will continue to produce my own stuffs to sell in order to put up funds for my medication needs. I will continue to blog, to connect with friends, to go out on strolls with family and friends. I will continue to go to the grocery with my family, and have refreshments of Goldilock's Sago at Gulaman, and an order of Goldilock's Sotanghon to-go. I was recently surprised to see its new packaging – simple yet classy. Goldilocks has changed for the better, and so have I.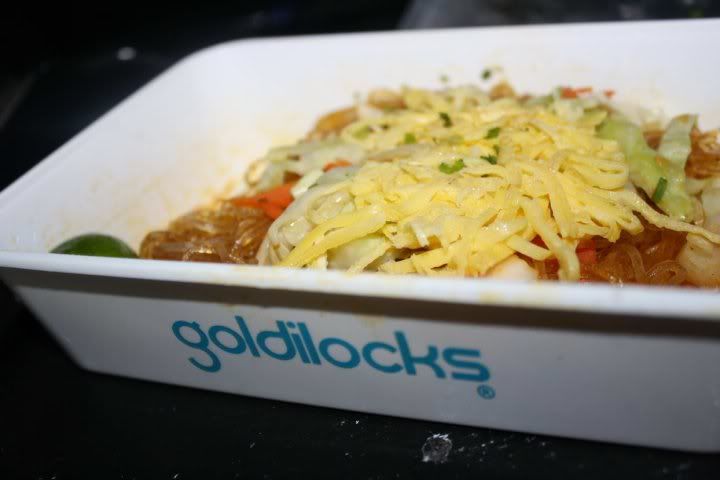 (Goldilocks' sotanghon to-go)
Change can only work in two ways – for the better, or for the worst. Yet, regardless of whatever manner in which change comes into our lives, what matters is how we view it and how we react to it. It is uncomfortable and awkward at first. It has a ripping effect on those who refuse to go along with it. It is not fixed by crying, or worrying, or wallowing in self-pity and mental anguish. I see the changes in my life as blessings in disguises. I gained more friends. I became an inspiration to many. I write my own articles for a broadsheet. I give hope and strength to the many out there who are in a similar predicament as mine. Yet, the most important thing of all, I have learned what the real meanings of 'strength' and 'hope' are. I am able to share strength because I had mastered strength. I am able to instill hope because I refused to let my own hopes die in vain. I am not comforted by the words "Just hang in there", but rather with the words "I can make it." I choose to be a victor, and not a victim of change.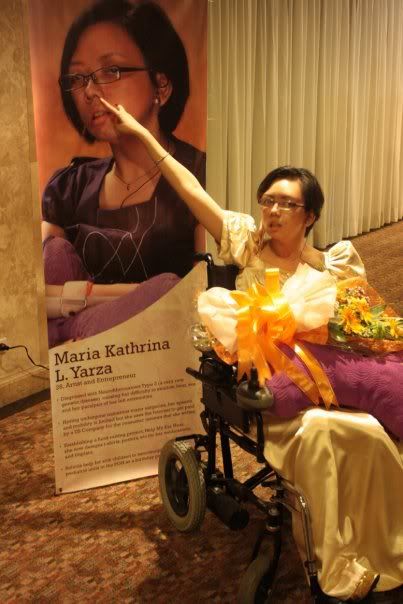 I have learned many of life's greatest lessons from the many changes in my life. I have discovered that time is so slow for those who are reluctant to face change. Change becomes a waste for those who do not desire to learn from it. It pushes us to bring out our personal best. It makes us realize that we are uniquely different with the capabilities to grow and shine brightly.
Change is Pagbabago. Pagbabago is Change.
Change is here to stay. I welcome Pagbabago.
I AM KCAT.
-----
here's the presentation: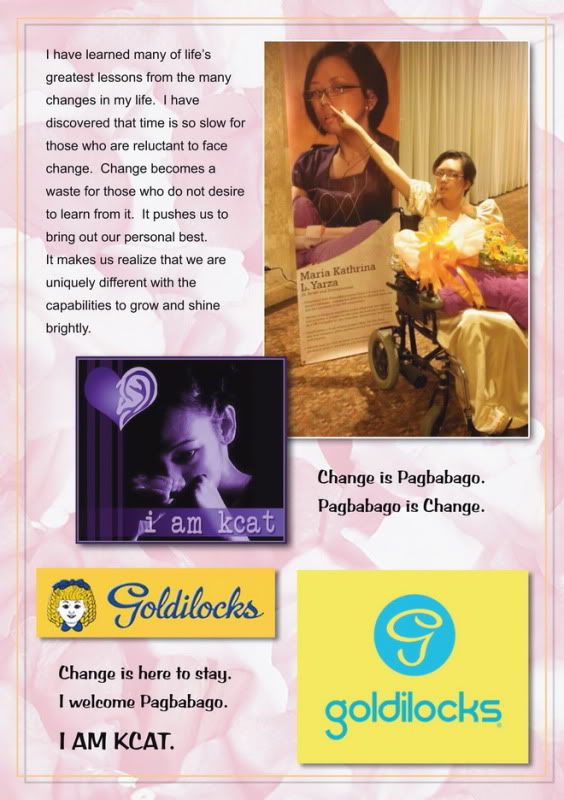 click here for more pictures..